From July 1st the standard which outlines safety limits for respirable crystalline silica exposure in the workplace for Queensland will change. The change means your current monitoring system or process for ensuring worker safety in that environment may not be enough to meet the standard.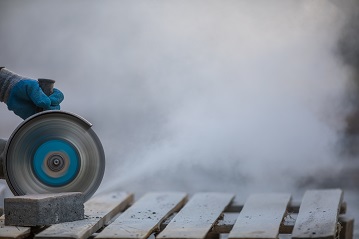 What's Changing?
The current exposure limit of an average airborne concentration of 0.1 milligrams per cubic metre (mg/m3) over an 8-hour TWA (Time Weighted Average) will be reduced to 0.05 mg/m3.
Why is it so Important to Measure Silica Dust?
Respirable crystalline dust can stay airborne for long periods of time. During this time these dust particles can be inhaled deep into the lungs, which can cause serious lung diseases including silicosis and lung cancer, as well as autoimmune disorders and chronic renal disease.
Managing worker exposure to dust and meeting existing duties and obligations under Queensland Work Health and Safety legislation, includes this new more stringent standard being implemented from the beginning of July.
What can you do to Meet the New Standard?
In order to meet these new standards, you may have to increase the levels of monitoring equipment you use to ensure the levels of dust remain below the outlined concentration levels or improve your process so that you stop dust at the source.
It may be that you need a combination of these to ensure a more comprehensive control system to protect workers and comply with the standard.
Increase your Air Monitoring Solutions
The current Code of Practice for Managing respirable crystalline silica dust exposure in the stone benchtop industry (2019) outlines you must know the airborne concentration of dust within a workers environment to ensure exposure levels are not surpassed, one of the ways mentioned to identify this accurately is air monitoring. There are various ways you can conduct air monitoring, including using air sampling pumps, dust monitors and area sampling pumps.
The most commonly used solution are air sampling pumps. Workers wear the small, portable pumps while performing their regular tasks. The pump samples air, collecting the dust on a filter over a selected time period. These samples are then sent to a lab and processed providing an accurate result of levels of silica dust in the air.
Although this is a very accurate way of monitoring, it does not necessarily provide you with all the information you need. Dust exposure is averaged out over the sampling periods, making it difficult to identify tasks or areas with high dust concentrations. There is also a delay in receiving the results back from the lab in which time your workers could have been exposed to increased harmful levels of silica.
We offer a range of sample pumps depending on what you need to monitor and where. Take a look at the AirChek XR5000 personal air sampling pump. This unit can perform samples using low and high flow rates between 5 to 5000ml per minute and has an extended run time of up to 40 hours. If you're looking for an intuitive colour touchscreen device then the AirCheck Touch sample pump is the perfect product.
A dust monitor would provide you with a real-time aerosol mass reading and generate more data to determine potential times of increased exposure, but more importantly notify you that you may have a problem earlier, so you can take preventive action instantly.
The DustTrak II provides real-time aerosol mass readings. Able to data-log for up to 45 days, the unit can measure particle size range of 0.1 to 10 μm. Suitable for harsh industrial workplaces, construction and environmental sites the desktop unit can work as battery operated and is easy to use and programme for your specific application. Keep an eye out for our new ATEX approved dust monitor launching soon.
We also offer a handheld fine dust monitor for respirable-dust measurements. The TM data II is suitable for workplace monitoring and of dust intensive production process.
You could also look at area sampling pumps, as this will enhance your awareness of silica particle levels further and provide you with a secondary measure rather than just relying on personal monitoring. Area monitors provide you with more information that could guide you in making your process more efficient, more effective and safer.
Wear the Correct and Most Effective Respirator
Workers must be provided with the correct respirator for the job, but also have it correctly fitted.
Enforcement action can be taken against a business if workers' respiratory equipment does not fit them correctly due to their employers not conducting proper fit testing. Face-fit testing is a comprehensive process carried out by a competent person to ensure the seal around the respiratory equipment is fitted to the face correctly. Forming the correct seal around the face is extremely important to protect the worker from airborne hazards. Respirator fit testing is required on a yearly basis.
There are two types of face-fit testing, quantitative and qualitative. Quantitative methods provide a much more accurate assessment providing you with an instrumented numeric result rather than relying on the subject's sense of taste used in qualitative methods.
By carrying out a respirator fit test using an instrument like the AccuFIT 9000 you are ensuring the safety of employees but also meeting the standards outlined in the current Code of Practice.
Stop the Creation of Dust at the Source
There are several different ways you can help to achieve this. Worksafe Queensland recommend using products with lower silica content, using enclosed equipment and water suppression methods, utilise on tool dust extraction or use tools that produce less dust.
Removing dust from the air is another way to reduce the risk such as installing a dust capture hood or local exhaust ventilation. Another necessity is to carry out daily start up checks to ensure machine and spray/ mist guards and local exhaust ventilation are fitted correctly and working effectively.
To stop dust from spreading further, enclose dusty processes in a booth or enclosure and clean up regularly with a H Class vacuum. You should also dispose of wet dust slurry before it dries out, minimising the risk of dust being spread over the workplace.
Fully enclosing or pressurising fixed and mobile operator cabins, and control rooms, will also help to protect workers. The use of HEPA filters on incoming and recirculated air in fixed and mobile operator cabins, and control rooms is another action which could minimise exposure to the worker.
There are many ways to try and limit the amount of dust produced, but in order to measure the concentration accurately, to ensure you're meeting the new exposure limit of 0.05 mg/m3 you may need to implement several of the activities listed above. Installing comprehensive air monitoring techniques will provide accurate data on levels of dust in the working environment, ensuring your meeting the reduced exposure standard.
Please just contact us if you need to discuss your requirements further.
References:
Managing Respirable Crystalline Silica Dust Exposure in the Stone Benchtop Industry Code of Practice 2019