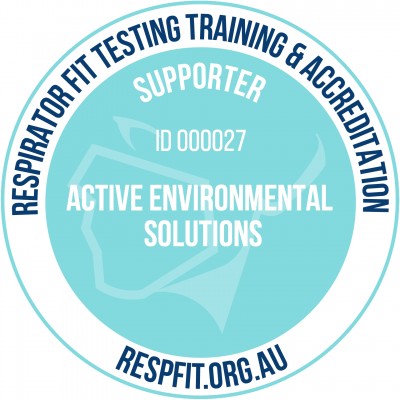 Active Environmental Solutions are official supporters of the AIOH (Australia Institute of Occupational Hygienists) new training and accreditation programme for respirator fit testing.
RESP-FIT is a national respirator protective equipment (RPE) fit testing training and accreditation programme developed to improve the competency of fit testers against both the Australian Institute of Occupational Hygienists and through close collaboration with industry stakeholders including:
Current RPE fit testers
State and Territory Regulators
RPE manufacturers and distributors
Industry, workers and members of the AIOH
The main aim of RESP-FIT is to protect worker's health by ensuring the respirator, the last line of defence against dust, chemicals or pathogens can fit properly and prevent leakages causing exposure to the contaminated air.
What exactly is RPE fit testing?
RPE fit testing is the method of testing respiratory protective equipment a person is wearing to understand whether it is the correct apparatus for the job and a proper fit for their face. People's faces are uniquely different therefore there is no 'one size fits all' mask type. These masks need to be put through several tests while the user is wearing it to determine if they are receiving adequate protection.
There are 2 main types of testing methods, quantitative and qualitative. Quantitative is considered more accurate as it provides numerical data using number of particles that can pass through the seal of the mask and therefore causing risk to the wearer. The Qualitative method relies on the wearer's physical senses, which depends on perception and therefore more variables and chance for error.
Why is respirator fit testing so important to focus on now?
There is a current demand for experienced fit testers and providers of competent knowledge around the fit testing process and why it's needed due to the COVID-19 pandemic, particularly for healthcare workers. With such a highly infectious disease which can be passed through infected secretions such as saliva and respiratory secretions, or through their respiratory droplets which are expelled when an infected person coughs, sneezes, talks or sings, it extremely important that healthcare worker respiratory protection equipment works effectively.
What else does RESP-FIT provide?
RESP-FIT have developed a comprehensive training syllabus based on AS/NZS 1715 and ISO 16975-3. Training providers can submit their courses and qualifications to become a 'RESP-FIT Approved Training Provider' and the trainers can qualify to be an 'Approved RESP-FIT Trainer'.
The approved RESP-FIT training courses will provide the knowledge foundation and hands-on demonstration for fit test operators. It will also cover the core knowledge and skills that will make up the assessment process for accredited fit testers.
RESP-FIT also exists to help support organisations in educating their employees on the importance of face fit testing and why it should form part of standard occupational health assessments for all those that wear RPE. There is a resource section on the RESP-FIT website with lots more helpful information.
We're proud to be supporting this important initiative to help improve worker health protection of those wearing tight fitting respiratory protective equipment, through reliable respirator fit testing by competent fit testers in Australia.
For AES's range of fit testing equipment please visit our fit testers page here.